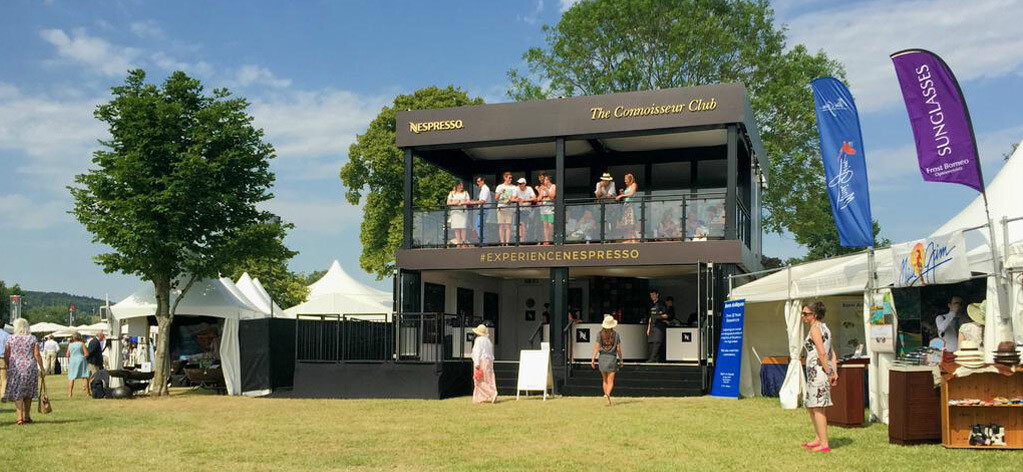 2021 has been slightly more 'back to normal' than 2020, with the easing of lockdown restrictions and the return of in-person events. Events and numbers at events across the UK have been significantly smaller than in the past due to COVID constraints and the worldwide events industry isn't fully expected to return to normal until at least 2023. However, surveys suggest that the United Kingdom is more willing than many other countries to meet in person for trades hows, exhibitions, and functions, so hopefully this should see more events, and people attending, in 2022. So, how can Hampshire Structures help you with your outdoor event planning next year?
Introducing KUBE
With so many events cancelled in 2020/21, it's time to return to the outdoor events industry with a bang! Hampshire Structures is proud to offer KUBE and how it can facilitate so many clients with their temporary outdoor event structure requests.
The beauty of KUBE is that it is a completely customisable, multi-storey modular event structure. A perfect way to stand out from the crowd! It is structurally sound, building control approved and DDR compliant. Due to the nature of KUBE, it is adaptable to varying locations and environments as well as having the added benefit of rapid build and deployment times. Being insulated, it is suitable to be deployed all year round, and is pre-wind loaded and compliant in areas of extreme wind, meaning no anchoring to the ground so the weather won't hold you back.
Sustainability in Mind
KUBE was designed with sustainability in mind for the temporary event structure industry. Manufactured in the UK thus reducing its carbon footprint, KUBE is a fully relocatable and reusable structure which is constructed from entirely recyclable components. With the option of thermo walls, insulated roof and double glazing, the ability to improve energy efficiency is also available.
Bespoke Venue
KUBE is the ultimate bespoke venue solution for your temporary event structure. We work closely with our clients to design and build a custom-made event structure for them to hire, whatever their vision. Whether a client is looking to hire a temporary structure for a one-off event or as part of an event schedule, KUBE is easily portable and is therefore the perfect customised solution. There are multiple options for the side walls, including glass walls, double opening doors, bi-folding windows as well as electric doors. The roof is a double layered tensile membrane system, and there is the choice of being translucent, opaque or coloured. KUBE can be wrapped in a digitally printed skin with your logo and branding as well as your choice of colours for walls and roof to match your brand. It's the intelligent choice for anyone needing a branded temporary structure.
The Technical Part
KUBE is built from a series of adonised aluminium members and engineered as a modular event structure. At 8m wide and a minimum of 8m deep (length incremental in 4m bays) KUBE can be a single storey or two storeys depending on your event structure needs. Engineered to 0.5kN/m2 wind load (without anchoring) and snow loaded to 0.6kN/m2 and with the roof and wall fire resistance compliant, it makes a safe choice for your event.
Want KUBE to Be Your Outdoor Event Structure?
We love being able to bring portable architecture to events and it looks like 2022 is set to be a busy year for many making up lost COVID ground. KUBE allows us to work with clients in the way most suitable to them and provide a bespoke venue solution. Enquire with us today to see how our expert and knowledgeable team can help you to develop a customised solution for your next temporary outdoor event structure.