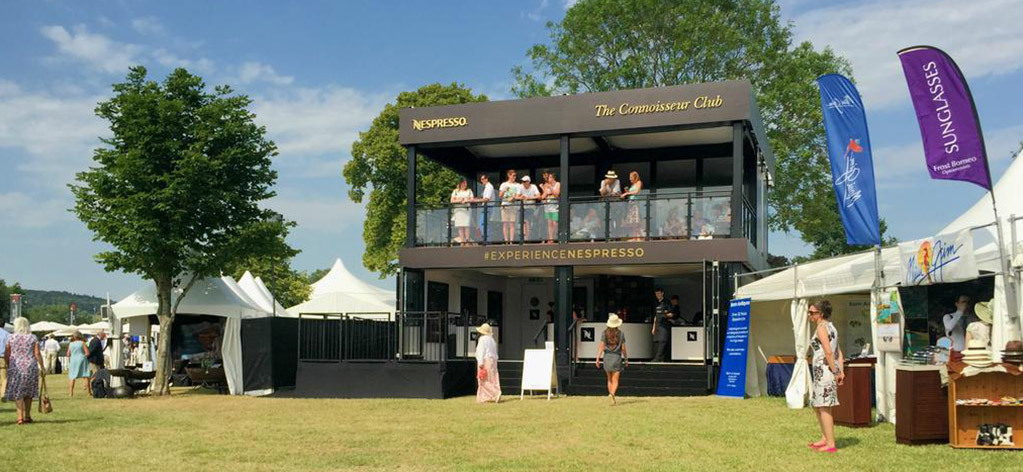 When you want to bring your brand to the forefront of your customers' minds, there is nothing like taking the products right to them. Temporary event structures can drum up plenty of extra business and really help get the word out about your brand. However, selecting the structure that will have the greatest impact on your event is important. Before you make the decision too quickly, there are some factors for choosing the best temporary event structure.
Hampshire Structures takes pride in our knowledge and experience in the production of event structures. We only provide high-quality, tailored solutions, providing our customers with long-lasting structures and friendly service at no extra cost. Hampshire Structures is pleased with our new solution, KUBE, a customisable event structure engineered to the highest standards and available to rent, buy, or lease today!
Location, Location, Location.
The location of your event is important because it can influence who attends. If your venue is in an undesirable location or too far from transportation systems, the number of people who attend will be limited. KUBE is the ultimate bespoke hospitality and event venue solution. It enables businesses to design and construct a custom-made structure that can be easily relocated from one place to another. Because no foundations or other time-consuming processes are required, KUBE can be built and ready for use in two days and dismantled in one day.
The Layout
The layout and floor plan of your event structure will significantly impact several aspects of your event, including traffic flow and activities. Consider the traffic flow through your event. For each area, you'll want a different kind of flow. What areas of the event will see a lot of foot traffic? Registration? What about the auditorium doors? Keep this in mind when selecting your venue, and remember that how you set up the tables and decor will have a big impact on this as well. If you want keynote speakers at your event, you'll need a place to set up a stage. Will you require a demonstration area? Is there going to be a bar?
Due to its modular design, you can adapt KUBE to your desired layout and available space. The structure is built on a unique 8m x 8m block grid pattern and can be extended into 4m bays to fit your space.
Branding Opportunities
All successful corporate events have memorable branding, which allows you to showcase what your business is all about. Creating an atmosphere that is relevant to your topic and appealing to your audience is an important part of organising an engaging event.
With so many branding options, KUBE is ideal for trade shows, exhibitions, festivals, and other events. Wrap KUBE in a digitally printed skin featuring your artwork or brand logos and select colours for the walls and roof to match company logos or event requirements.
Accessibility
Accessibility refers to the possibility that everyone, particularly those with special needs or disabilities, can use the building and its amenities. Understanding who your attendees are and what their needs may be are key factors in making your event a success. To meet the needs of all potential visitors, KUBE can incorporate external ramps, stairs, and lifts that are fully DDA compliant.
Sustainability
The world is becoming more eco-conscious, and the importance of creating green and sustainable events is increasing. A big part of sustainability is reducing the amount of energy we use. Built from a series of technical materials to help lower your company's energy consumption throughout your event, KUBE side wall system is a combination of glazing systems and UPVC solid walling. Choose glazing systems including, glass walls, double opening doors, bi-folding windows and electric doors. As standard, KUBE is supplied with an insulated double-layered tensile membrane roof system. However, you can choose between translucent, opaque or even a coloured roof.
Why is KUBE a Great Option for Your Next Event?
KUBE is built to the highest standards, using only the best materials and manufacturing techniques, giving you confidence in Hampshire Structures products. KUBE is constructed of CE-approved extruded aluminium profile and was designed and engineered in accordance with E.N. 13782 as a temporary demountable structure using the most recent Eurocode standards. We believe in producing only high-quality, long-lasting event structures at a reasonable cost. KUBE is the ideal event structure due to its structurally sound materials, customisable design, branding and modularity, durability, and uniqueness! Call our highly qualified experts today for more information on the KUBE.