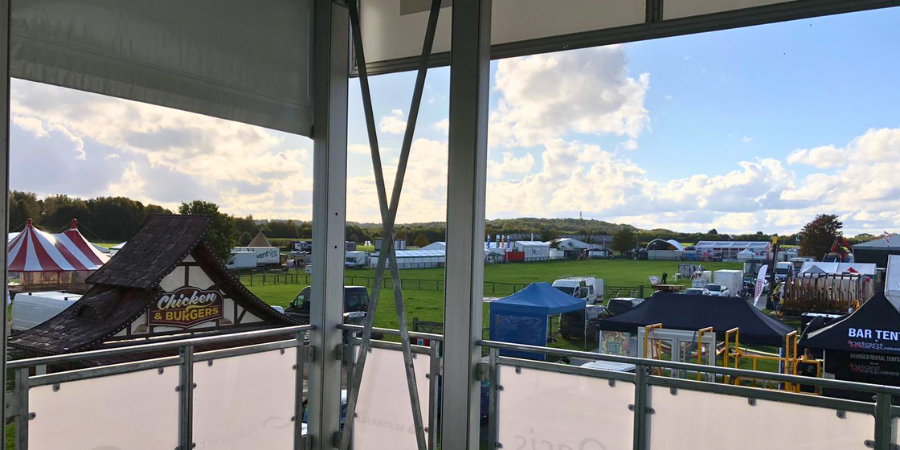 Events are an integral part of human society, bringing people together for various purposes, be it for celebration, learning, networking, or fostering new connections. As event organisers continuously seek innovative ways to enhance attendee experiences, the concept of a "Double-Decker Event Structure" has emerged as an exciting and promising approach. In this blog, we'll explore the benefits of adopting this unique event format, which adds an extra dimension of engagement and opportunities for success.
What is a Double-Decker Event Structure?
A double-decker event structure is a unique and innovative architectural design that features two levels, much like a double-decker bus. This type of structure is specifically crafted to cater to various events, exhibitions, trade shows, and brand activations, offering a versatile and eye-catching space for hosting activities and engaging with attendees.
KUBE from Hampshire Structures serves as a prime example of a double-decker event structure. As a completely customisable and engineered solution, KUBE is designed to meet the highest specifications, making it a standout choice for businesses and event organisers seeking to create a lasting impact.
Maximising Space and Capacity
One of the primary advantages of a double-decker event structure is the ability to maximise space and capacity. With two levels, you essentially double the floor space available for various activities, product displays, demonstrations, and interactive exhibits. This allows the business to accommodate more attendees, vendors, and partners without having to expand the event's physical footprint significantly and therefore, reduces rental space costs.
Enhanced Engagement Opportunities
When it comes to events, engagement is key. A double-decker structure opens a myriad of possibilities to create interactive and immersive experiences for attendees. On the lower level, businesses can host product demonstrations, workshops, and presentations, while the upper level can be utilised for networking lounges, private meetings, and VIP experiences. The segregation of activities between levels allows for a smooth flow of visitors and targeted messaging on each level, ensuring that they get the most out of their event experience.
Versatility and Customisation
Double-decker event structures are incredibly versatile and can be customised to match the business's brand and specific event theme. From interior design and layout to exterior branding and signage, the structure can be tailored to create a cohesive and impactful brand presence. Businesses can also adapt the layout for different events or exhibitions, making it a cost-effective investment in the long run.
KUBE stands out as an unrivalled event structure due to its exceptional ability to be customised. No matter the size, theme, or branding requirements of your event, KUBE can be perfectly tailored to suit your vision. Our team of skilled designers and engineers work closely with you to understand your specific needs and translate them into a unique double-decker structure that aligns perfectly with your brand identity.
Unmatched Expertise and Support
A double-decker event structure is not just a novel concept; it's a strategic and practical solution to take events to the next level. From increased capacity and brand exposure to enhanced engagement and networking opportunities, this unique setup offers a range of benefits that can significantly contribute to the success of a business event.
Hampshire Structure's team of experienced professionals are committed to providing unparalleled customer support from the initial concept to the event's execution. With a wealth of experience in the event industry, we offer expert advice, practical insights, and a dedication to bringing your event vision to life. Make your next event truly one-of-a-kind with KUBE and unlock the full potential of your brand.
For more information about the KUBE, contact our team today who will be happy to answer any further questions you may have. Call us today on 01264 721630 or email [email protected]